This is mostly a long-overdue Thank You to Kym. I promised her (some years ago, I have to admit) that I was going to use her pattern to make myself a tea cosy. And then life happened and I never quite got around to it. I did make one over a year ago, and then didn't post about it . . . so, Kym, this one's for you. I thank you so much for all three of your tea cosy posts. Once I have my sewing machine available again, I'll be able to make some that are much less rustic-looking, but I'm actually quite happy with this one. I especially love the heart handle!
Thank you! Thank you! Thank you!
Once upon a time, Kym from Western Australia, whom I had met through her good friend who lives in Tasmania, wrote a blog post about her little tea cosy that she had made. That was back in March of 2014, when I was living with my Mum in her old rented condo in Edmonton, AB and also spending lots of time with her older sister, my Aunty Irene, who lived in the same building. I had every good intention of creating a tea cosy or two for myself, as you can see from the comments I left back then. On re-reading them, I was surprised to see that I had even ironed the fabrics. I have no idea what happened, but apparently life kept flowing on and the project was put aside. I expect I'll discover it one day, when I unpack my boxes from the storage. In the meantime, I have accumulated three teapots; a large black one with a slightly chipped spout that I found in a charity shop here for $2 CAD; a square one that I found in a second-hand stall at a weekly market near the ASDA where I shopped for groceries once a week while living in a terrace house in Heaton, Yorkshire (near Bradford), and a sweet little 'Typhoo' teapot that I saw in the window of a charity shop in Banstead during my three months living near Woodmansterne.
The square one is in the shape of an old English cottage, with the spout at one corner and the handle opposite on another corner. I found a similar, but not quite matching, creamer at the same vendor's, so of course I bought that, too. Since then I've been keeping my eye out for a cottage sugar bowl . . .
The square, 'cottage' teapot and almost-matching creamer . . .
All three teapots now live on the top shelf; obviously, more tea cosies need to be made, right?
The cottage where I lived for three months, near Banstead in Surrey.
I'd been buying groceries and was waiting at the bus stop when the lovely red caught my eye. I could hardly believe it when I saw the brand 'Typhoo' on the side. Typhoo tea is a delicious English tea and I was first introduced to it by my mother in law, who emigrated with her husband and oldest son in 1948, shortly before giving birth to their second son.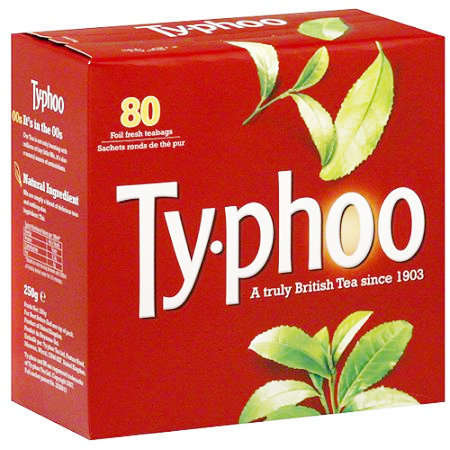 The box on the left is the one I was first familiar with, back around 1967 to 1973 at my mother in law's home and later in my own; the other is the one I have bought most recently.
Anyway, I loved Joyce dearly and I still buy Typhoo when I can find it and drink it in remembrance of her. So here was the perfect teapot! Sadly, though, it was evening and the shop was closed. The following week, I came for my groceries a bit earlier. I came to the shop and looked hopefully at the window display. Alas, no teapot! So I went inside, thinking that of course someone would have bought it; who could possibly resist such a sweet wee thing? Just the size for two cuppas, so perfect for entertaining a friend. I looked around the front room. No teapot. Hoping against hope, I widened my search into the back area. And there, on one of the lower shelves (and furthest from the main door) was 'my' little pot! That made my heart sing! So it came home with me that day, then moved up to Yorkshire in early August with me, then home to Canada in mid-November of that year (2018).
I haven't found any Typhoo tea since I returned, but I do have some lovely Yorkshire tea now. I'm planning to make some in that lovely red teapot on New Year's Day and eat it with some Walker's shortbread that I was given for Christmas, Walker's is also special to me for its association with my mother in law. Joyce was born in 1923 in Gatley, Cheshire, the same year as my Mum. She died in Victoria in 2008.
When I lived in the terraced house, I could look west from the window in my room toward that town. I never got to visit it, but I thought of her every day while I lived there.
Now you've read the story of my three teapots, I expect you'll be wondering about Kym's tea cosy. She wrote three posts about tea cosies she had made, but the one I linked to is the one that inspired me and has sort of nagged at me all this time. In it Kym gave the pattern and instructions for making a tea cosy to fit your own pot.
I finally did it, in the summer of 2019. I took photos and everything. But I somehow never got around to writing about my tea cosy until now.
Bear with me, please . . . I'd planned to insert these photos as a gallery, but things have changed here on WP . . .
Anyway, I measured the pot as instructed, then drew out the pattern.
The heart I drew freehand, so it's a wee bit wonky . . .
I cut the pieces from navy and blue & white gingham cotton fabric, plus cream quilt batting (also cotton) for warmthI .
My sewing machines are in the storage, of course, so I hand-stitched it all. First the heart that would become an ornamental sort of handle, inserted into the seam at the top of the cosy.
I stuffed the heart with some Fibre Fill.
I layered the navy cotton together with the quilt batting, then quilted each half in a very rustic fashion.
When both halves were quilted, I stitched the lining to the front of each half, Joined the halves, then turned them inside out. The bottom of the heart was inserted into the seam and held fast by the stitches. It was a bit floppy at first, so I sort of pulled it down and then took a few extra stitches all around it to give it more anchorage.
The finished cosy! Very cottagey, I'd say . . .
And this is the pot; I think this one holds six cups, so it's more suited to when several friends drop by, or when there is only one friend, but we each are thirsty . .  . or  when we are spending the afternoon doing handwork together  . . . I so look forward to being able to do that again  . . .
While looking for the photos of the cosy and the pot, I came across these: my Maymorning mittens. I knitted them while in Heaton, sitting in the small lounge (that had a very high ceiling, so it didn't seem small) and looking out west through the bay window, watching the changing light move across the landscape and the homes further down the hill.
I called this pattern Maymorning after the Runrig song. If you like a bit of amazing rock, have a listen; if not, just ignore it. I love you, either way.
When I flew into Glasgow in the morning of the 14th of May, 2018, this is the version of that song that was playing in my mind, which always has a playlist going. And when, just over a week later, I rode the train from Edinburgh down to London, then on to Surrey, it was playing again . . . it was a May morning, both times, sunny and beautiful; from the train I saw the fabled hedgrows full of hawthorn blossoms. I'd read about them since I was a very young child; now I was seeing them in person . . .
So, once I was settled in Heaton, I began these mittens to wear in the coming winter. The pattern is based on Scotland's Western Isles, the Hebrides in particular. Similar in some ways to our own western isles ( the Gulf Islands and Vancouver Island, the Big Island, to the west of them). So at the bottom is the green of the mainland, then the sea on a sunny morning, whitecaps frothing in the breeze. Then comes an island, with wildflowers blooming among the late spring grasses. In the distance are the mountains of the Highlands and Islands, with the sun peeking between the peaks. Ok, there are many suns and apparently we are watching a sunrise while facing west, but consider it artistic license and allow your imagination to wander through the meadows . . . It's very early dawn, with the sky just beginning to grow light and above the mountains the stars are still visible in the last of the night sky. A beautiful May morning, wouldn't you say?

I only had one set of five DPNs (double pointed needles), so I made the mittens one at a time, fitting each to its hand as I went. So they are not quite identical. The points at the top are different, if you look closely. But they do a great job of keeping my hands warm and I very much love the imagery they bring to me, in a world made monochrome by winter snows.
I plan to make these again, this time changing a couple of things. I will make them a wee bit wider, as a snug fit isn't quite as warm as a slightly looser fit. I used two strands of yarn all the way through so that the thickness of the fabric would be maintained, but I forgot that sometimes I knit a bit tightly and the fabric draws in. They do fit, though, and I love wearing them. I will round the tips a bit more, too.
As to the design itself, I think there is too much sky and not enough sea, so I shall widen the band of ocean, lifting the land higher on the hand, and shortening the section of sky. I'll be writing the pattern down in full and am considering adding it to my very tiny section of Ravelry . . . but first things first . . .
. . . because I'm not sure when I will get to this, as now I have my second kit to make another of Lucy's Attic24 blankets; this time the Summer Harmony, with its colourwash joining. I'll be sharing my progress with the Original Harmony (which I am calling my Spring Harmony, as the next up is the Summer Harmony), now completed in all its yarny cosiness, as well as the beginnings of the new blanket odyssey, in a future post. Dare I say 'next year'? It suddenly seems so real, doesn't it?
The Spring Harmony Blanket, spread across the futon couch where I sleep:
. . . and its beautiful border:
This has all been about me, but I have been thinking of you all as I've typed, imagining you as I've come to know you. Thinking of those who no longer blog and of the few who are not with us any longer. Always remembered, though.
I hope you all had a good Christmas; in the end, holidays are what we make of them, aren't they? And if you don't celebrate Christmas, I hope your Solstice, Hannukah, Kwanzaa or other holiday was equally satisfying.
I have found that the past year, while challenging in so many ways, also brought me some blessings. I'll be writing about those one day soon. In the meantime, I expect to post again before New Year's Day, but just in case something comes up, I will wish each of you, your families and friends, a wonderful New Year in advance. I hope this year is full of love and joy, of creativity and learning, of friendship and solitude in whatever proportions you prefer.
And, just in case, I'll leave you with my favourite rendition of Auld Lang Syne, by Dougie Maclean. At the bottom of the notes is a suggestion by the channel's author, Sam in NYC, which I'm going to copy here:
Please, before you move to another video, take 10 seconds of silence to think of the people who have helped you become who you are, those who have cared about you and wanted what was best for you in life.
I will add to that: think of those you have met here in the Virtual Village, but usually not face to face. For me, at least, these have become among the strongest friendships in my life. I will be thinking of you all as the clock chimes midnight and I'll raise a glass of eggnog to this Virtual Village and all its motley crew of residents. Have a good week, and to quote our favourite BC doctor (our provincial health officer) Dr. Bonnie Henry:
"Be Kind, Be Calm and Be Safe"
Much love and light to you all, and many blessings in the coming year.  ~ Linne