---
OK, friends, here it is! So fill up those buckets of tea, gather some food and prepare yourselves for a somewhat lengthy stay . . . and big hugs to anyone who makes it through to the end . . . I've not written for a while and this is what happens when all that energy is kept pent up . . . some of you may need to come back and read this in sections . . . consider yourselves duly warned . . .
I'm sure you all know by now that everyone in this Village holds their own special place in my heart, each for their own unique self, and it's been a great privilege to share vicariously in the lives of so many diverse people: gardeners, crafters, artists, writers, parents, travellers, designers, and so on and on . . . we may never meet in person, but in some ways we meet so authentically here in the Village that it makes no never mind to me, as some would say. You are each a treasured part of my HeartFamily and no matter what the future might hold for any of us, you will always be in my thoughts and prayers, in my heart, my mind, my memories . . .  but put that aside for now . . .
Today I want to take you on a trip, a Voyage . . . here we go, off to meet a few of the others in my Village. I hope some  of them come to dwell in your Villages, too . . .
I've been following posts by several friends as they participated in this Blog Hop Around the World and now I've been invited to join in . . .by Jess, the Rabid Little Hippy. In the beginning of my blogging days, I saw a comment by Jess somewhere and was enchanted by her blogname, being a Rabid Larger (and Older) Hippie myself. Since then, she has become a great friend, supportive and encouraging, not to mention inspiring. In many ways she is the daughter of my heart, just the sort of daughter I might have wished for . . . and maybe more like me than a daughter of the blood would have been . . .
I love everything Jess and her family get up to, although some days I feel I need to lie down and rest after reading about all she accomplishes in a day or a week . . .  😉
. . . and then there all my other new friends that she has led me to . . . this Virtual Village is just what any extreme introvert needs . . .
  Above are three photos of the Rabid Little Hippy's backyard garden, where chooks, goats and other lifeforms also reside. Also out there you will often find Martin, her husband, as well as three of the cutest Pint Sized Permies, whose activities are occasionally posted in their own blog. Jess introduced me to hugelkultur and rocket stoves, not to mention a wagonload of information about various ecological issues and more. The Rabid Little Hippy and her entourage dwell in Ballan, Victoria, Australia.
Here is Jess sporting her Katniss braid . . .
creativity comes in all shapes and sizes, doesn't it?
From comments on Rabid's posts, I found myself often on The Road to Serendipity with Narfie and Stevie-boy and the two pups . . . and that led me to so many others that I can't name them all.
Above are two photos of the Sanctuary, a HUGE veggie garden completely encased and roofed with fishnetting to keep out various predators. The netting was completely installed  by Narf7 and Steve last year. The bottom photo was taken on a walk with the two 'pups', looking across part of the river Tamar to The Road to Serendipity (somewhere in the middle of all that lovely green). Serendipity Farm is in Tasmania, south of Australia. Go visit the Farm and you will learn, love and laugh 'til you fall off your chair . . .
Creativity takes many forms at Serendipity Farm; music, cooking, renovating, etc. Still, I feel the most creative thing of all  is found in Narf7 and Stevie-boy's approach to life, love, learning and all that good stuff . . .
My blog-following is most eclectic, like me, and so I decided to invite an eclectic batch of friends and see what happened. I can now tell you that I'm quite over the Super-Moon (which was happening as I typed the draft for this post):
But first . . . My answers to the questions:
Why do I create what I do?

Wish I knew! I just can't help it; it's like reading . . . if I were locked up with only a cereal carton, I'd read every word on it (several times), then I'd write on it (in blood if necessary), then I'd see what I could fashion from it . . .  Honestly, I think creativity is a vital part of each of us, although in some people it's farther down the list of strengths than it is for others. I can't remember a time when I didn't create and the very act of creating has healed me, entertained me, amused me, given me hope and strength, distracted me when I most needed it, oh, and so much more . . . kept people warm and fed, made a home of wherever I happened to be living at the time, filled a gap when the budget didn't stretch to something I wanted or needed. I learned to be creative with sewing because I am tall, with long arms and legs, and women's clothing rarely fits me. Many tops have sleeves a couple of inches too short; pants stop above my socks, and so on. In my slightly younger days, I hand-stitched long skirts and dresses and even a couple of pairs of pants. I still have most of them, but they are not available for a photo session. I fell in love with Folkwear Patterns and hand-stitched the Kinsale Cloak from a heathery green fabric of unknown components. I never finished the hood, but I loved that cloak a lot. Fully lined, with topstitching and it was so cosy! Somewhere along the way, it seems to have disappeared, but I still have the pattern and would like to make it again one day; this time from a woollen fabric. More recently I discovered the Sense & Sensibility patterns for days gone by . . . I own most of the Edwardian patterns and some of the crochet and Romantic Era patterns as well. And that's only the sewing of clothes bit of my creative endeavours . . .
Some dyeing I did for the Etsy store (closed for a while now)
My favourite drawing, which is the cartoon for a couple of watercolour paintings.
A casual drawing of a 'hobbit home', done while drawing with children.
A 'plain' shawl that I somehow managed to complexify and bits for two of several knitted bears, something I love to work on when possible.
A round shawl I made up as I went along . . .
My favourite shawl; mossy green and also invented as I worked. It has a macramé fringe and a pattern of 'holes' worked in just for interest.
Two of the double-sided crochet bits I've made. This is from an easy pattern shared by a bus driving friend and posted here a while back.
The most creative time of all . . . loving someone small . . .
A crochet doily with white and ecru-leaved violets; I made this several years ago, when I was still living on the west coast of BC.
Hexagon flowers for an eventual 'Bestemor's Flower Garden' piece. Bestemor means Grandmother in Norwegian and it is what my grandkidlets call me, in homage to my Mum's mother, who died years before I was born. I wish I had known her . . .
Three of the hand-sewn dolls for my grandkidlets . . . from a rough pattern.
Above, one of my Dad's stained glass lampshades and on the back of the couch, a quilt made by my Mum, with her quilted pillow in the centre front. They both did so much more . . . I love that creativity has been passed down in my family for many generations.
My parents, with me and the first two of my brothers, back when we lived in a small one-room shack with no power, no indoor plumbing and a wood cookstove that also kept us warm. My creativity began even before that, though . . .
How does my creative process work?

Well it's different when you're not so skilled and also very eclectic. (Do you think there's a relationship between those two?) If I stuck to one or two creative endeavours, I might have mastered them by now and life would no doubt be quite different. But no such luck. I am inspired by an idea, a photo, a pattern, whatever; I gather materials and I start a project . . . then, "oh, look, a blade of grass!" (that phrase is a family joke among my sisters, often used when we are talking about something and then digress and then digress again [but we always come back to the original topic] ) and I am off learning about something else. Or maybe I had to move and my projects are in storage and I can't stand the emptiness that comes when I have nothing on the go . . . so I read a bit (if you think I'm being honest with 'a bit', think again! LOL) but it's never enough; I have to make something . . . so off I go on another project and then, there it is, that 'blade of grass' and away I go again . . .  In a perfect life, I like to have several things on the go at once, set up and waiting for me. Then I can 'feel' what I want to do for the day and pick up where I left off. In reality, I do have several things on the go at once, but practical considerations often determine what I work on at any given time. So, when at my Aunty's, I need a project that doesn't require me to read a pattern so that I can pay attention to our chats. One of the major reasons I fell in love with Dani's Bavarian crochet afghan. I have finished two, have a large one well under way and am in the middle of one I haven't really mentioned yet. Photos at the bottom of this post, but no peeking!
The large Bavarian afghan above; two for the grandkids below.
And I have enough yarn now . . . sigh . . . the first Bavarian was meant to use up two oversized balls of acrylic; then I had to buy more so there would be enough afghans for each of the soon-to-be-six grandkidlets to have one of their own and the parents to have one large enough to cuddle under . . . and then there is my other son and his former girlfriend. Like Scarlett, I'll think about that tomorrow . . . A major part of my creative process is that simple projects somehow become complex and, like objects in the mirror, much larger and nearer than they seem) One reason they become complex is that I am creative with practically everything, and in a rather slap-dash, 'what-the-hey' manner. "oh, well" is a mantra heard often in the inner regions . . . but I LOVE it so much!! Why? I ask you . . . I makes me happy and frustrated, often in equal parts, to be creative; to learn and do; to master; to design (a life-long love of mine, designing); to teach . . .
When I can, I love to make things that are more challenging; last year I started my first Fair Isle style 'barn cardi'; some of you will remember it; not perfect, but it will be warm and cosy, and the lovely hot magenta background is very cheerful. Only the sleeves and buttonbands to go now (and maybe a hood), but it's on hold at my friends' place at present. I used traditional Fair Isle motifs, but the cardi itself and the arrangement of the motifs are all my own doing; the shape of the cardi evolved during the knitting . . .. as did the collar . . .
A favourite quote . . . from Stephen Hunt.
My Fair Isle style 'barn cardi' . . . and that's my lovely, 94.5 year old, under-five foot Aunty helping out as my photographer's model . . .
A Fair Isle style bag I invented, also with traditional motifs.
How does my work differ from others of its genre?

Well, my friends, if I had a genre, maybe I'd have an answer for you . . . The best I can say is that I am wildly eclectic, with a wide range of creative loves that encompasses language and languages, music, folk art, fine art, design, almost all the arts known to woman including fibre arts of all sorts, traditional skills and current ways, and more. Perhaps what is different at times is that I am a philosophical thinker by nature (my top strength), so things I make often have meaning for me that they don't have for others. I like to make things by hand. I've done a little spinning, some weaving, some dyeing, and so on. I'd hoped to do stamping and free-hand painting on some of the silk scarves, but those plans are on the shelf for now. I designed a Cowichan sweater for my husband a few decades ago, with symbols that are meaningful to him and knitted from unspun yarn in cream with light and dark brown motifs. So far as I know, he still has it. I have a couple of photos of it and will post them here if and when I locate them . . .
I like to combine media, too. I've done a little printmaking and the idea of combining that with watercolour and then collaging on top of it all is very exciting to me. I have created a few masks and art dolls. One piece I especially like is a four-foot circle of thin plywood covered in canvas. I fastened three masks of my own face on the front, then painted the entire thing white; it looks like faces emerging from the background.
What am I presently working on? Well, the Bavarian crochet afghans, of course, and here is a series of photos of pieces of the latest one, which is my way of being creative with a lovely pattern:
This slideshow requires JavaScript.
Does that seem confusing? The large piece is the centre; there will be twelve smaller pieces (below is the photo showing the centre and three of the smaller bits) surrounding it, then there will be several rows all around and all in white. I may throw a row of purple in there somewhere, too; that depends on having enough left to complete the work. I have only one ball of the purple, but have three balls of the white and a good chance of getting more if needed. No chance of more purple; the yarn is different from the same brand now; softer and finer spun. But I do want a purple edge, as it will show wear a bit less.
Here you can see the centre piece. Each side of it will have two of the purple hearted squares and the four corners will be the white hearted squares. Hope that's more clear.
Here are the latest photos of this piece, which is turning out even better than I dreamed:
This slideshow requires JavaScript.
As you can see, this new piece is now wider than a single bed . . . and still growing . . .  I call it "Violets in the Snow" and it's my favourite of the Bavarians I've made so far.        I think I'll be keeping this one . . ..
A detail of the corner as it is today . . .
OK, that's enough about me . . . 🙂 Four people have been kind enough to allow me to twist their arms ever so gently and have agreed to take part in this Blog Hop Around the World, or, as I like to think of it, this Voyage through the Virtual Village:
(Please note: all photos from participant bloggers are used with permission)
First up is Sarah from the Frühlingskabine Micro-Farm
(pronounced: fruu-lings-cab-ee-na)
Sarah and her lovely family live in an old California gold rush town. 
Backyard chickens and so much more . . . but I'll let Sarah tell you about that . . .
Her creativity is evident not only in her approach to sustainable living, but also in her artwork: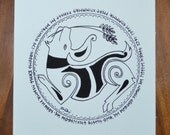 One of Sarah's Celtic mandala drawings, perfect for using as is or for colouring in.
On the blog are a page for Printables, with excellent resources for small-holding farmers, as well as another page with a variety of DIY projects. Check them out!
Sarah has an Etsy store, the Little Farm Shop, and it was there that I purchased my lovely raven amulet necklace:
. . . as well as her beautiful 'Backyard Farm Coloring Book' for my grandkidlets and for a friend's children, too. These are a perfect gift, as you can email them to whomever and they can print out as many copies as they like. Children can colour the pictures, then send them to Grandma or . . . all while learning a bit about backyard farming.
---
The Official Tea Towel of the 23 Thorns household . . .
Next up is . . . Mr. 23 Thorns! I first discovered him via The Road to Serendipity, and he makes me laugh and sometimes cry, often at the same time . . . Writing is one of my favourite forms of creativity, or I should say, reading other people's writings.
Mr. and Mrs. 23 Thorns (she has her own blogs: Tracy  Loves History and The Rubbish Collection Day Collection. This woman has the most inspired approach to taking out the trash that I've ever heard of; she, too, makes me laugh and sometimes cry. They deserve each other (and I mean that in the nicest of all possible ways)!
As you can see, the 23 Thorns children are as creative as their parents . . .
Here are links to a couple of my favourite 23 Thorns posts . . .
Jesus died. But now he lives. In Detroit, sort of. This post introduced me to the work of Jesus Rodriguez, a man whose music and approach to life continues to inspire me. If you are intrigued, check it out . . .
Parenting for Dummies.  As my parents, and later myself, had quite 'relaxed' approaches to parenting, at least when it came to letting kids roam free, climb trees, take risks, etc., I found this post both refreshing and amusing. Don't let the first line fool you; Mr. 23 Thorns loves his kids as much as any of us; he just doesn't subscribe to the "wrap 'em in cotton wool 'til they grow up" philosophy.
As you may have guessed from the photo on the left above, the 23 Thorns do not live in Canada . . . nope, they live in South Africa . . . I hope, if I ever get there, to camp somewhere nearby . . . I dream of hearing the birds, maybe even elephants, at night.
Fierce Protector of the 23 Thorns household . . .
Mr. 23 Thorns also writes Why Books. That is a link to a wonderful post about WWI.
---
Third brave participant is Kristin Nicholas, of Getting Stitched on the Farm. Kristin has her own shop, where you can browse for patterns (I've bought a couple), books, kits and more, even wallpaper!
Kristin has books of knitting and embroidery patterns in her shop.
One of the wallpaper patterns she painted by hand and which can be purchased.
Color by Kristin is her own brand of yarn. Half wool, a quarter each alpaca and mohair.
You can find these in the Embroidery Supplies section.
Kristin began sewing at age nine and, like me, learned to knit, crochet and much more soon after that. She was lucky to have a German Gran who taught her embroidery.
She sells her own notecards and postcards, too, in sets of assorted or single image.
Kristin has written several books, too, including these. I bought the centre one and love it! I will take it along the next time I visit my grandkidlets. My eldest granddaughter taught herself to stitch by age 5 and is still interested at 15.
Kristin lives a couple  of hours from Boston, Massachusetts. If you are going to be in the neighbourhood, you may be able to take in a class or two. This one interests me . . .
See her post on Fabric Printing if it interests you, too . . .
As you can see, Kristin's creativity has many outlets. I have found her blog more than inspiring. Now if I only had more time . . . note to self, plant thyme next spring . . .
---
Fourth and final participant will be Michelle of the City House Studio blog. I found her through a couple of sewing and quilting blogs that I follow and was instantly smitten with her work and with her fresh approach to quilt design.
One of Michelle's gorgeous quilts.
. . . and this is her Farmer's Wife Quilt, completed in 2011. 90 blocks, to celebrate her grandmother's 90th birthday! More than impressive, isn't it? There is a great story behind this quilt; you can read it here. It covers from the 1890s to the 1930s. I love the tradition that is carried on through the stories and by people still making this quilt.
here she is with her Gran and the quilt.
And here's the back of it . . . equally lovely.
I love her Scrappy Asterisk Block tutorial and it's on my ever-lengthening list . . . this is the first of Michelle's quilts that I read about and it caught both my eye and my imagination. I simply adore anything not 'in-the-box' when it comes to design.
Michelle has an Etsy store and it should be open again soon. I happen to know she's extremely busy getting some quilts ready for several fall fairs. Which explains why Michelle's Blog Hop post will see the light of day in September – watch for it!
You can buy patterns from Michelle's Craftsy store, too.
See her "Read" Library Tote pattern here or her Bionic Gear Bag Notions tote here.
Now, if you're into free motion quilting, be sure to visit Michelle's FMQ Challenge blog. That's one example in the photo above. And then there is this:
Don't know if I'll ever have time for trapunto quilting, but I hope so. At least one piece, maybe a pillow . . . Project lists certainly give us reasons to live, don't they?
Two of Michelle's 'Sticks' quilts. I. Want. More. Time. !!!  🙂
I'm not sure where this Blog Hop began, but I have traced it back a ways for you, in case you, too, are afflicted with terminal curiosity . . .
I'm assuming the Hop goes back much further, but have run out of time; if you are interested, I'm sure you can do what I've done so far; go to the last blog listed and go back through posts to around June (or earlier, as you go on), then look for the specific post. It's been lots of fun, just seeing all the different types of blogs that are linked through this Hop. If you read the posts, you will see that there are branches to this hop; as many bloggers have twisted the arms of found three others to 'volunteer' to join in.
It wouldn't be a "post accompli" without a bit of music, would it? Much of it is folky, so if that's not your thing, no worries. None of us have enough thyme for everything, do we?
Heiland Harry by The Corries, in honour of all the young men who never returned from the various wars they were sent to fight.
Like Janis by Jesus Rodriguez (Sixto Diaz)
Asimbonanga by Johnny Clegg (with Nelson Mandela!)
Hobo's Lullaby by Arlo Guthrie (written by Woody Guthrie), in honour of all those out of work and homeless . . .
Two songs that link to my childhood now:
The Log Driver's Waltz by Kate and Anna McGarrigle. My Dad used a peavey like these when managing logs in a boom im a holding pond. I don't think he ever rode a log through whitewater, though.
The Frozen Logger by The Weavers. My Dad used to sing this all the time. I learned it as a young child and I still love it.
A half hour of Stompin' Tom Connors, a Canadian icon. I don't listen to a lot of country, but I still love Stompin' Tom, who passed away not that long ago. A true, true Canadian!
His The Hockey Song will always be one of my favourites.
and, of course, Runrig, singing The Water is Wide and Steppin' Down the Glory Road.
. . . performing An Sabhal Aig Neill, followed by the Drums . . . should make you dance!
Last, my favourite rendition of "We Will Rock You!" This one's for the more rockin' of my followers.If you want a lot more more rock and a lot less folk, here's one of my favourites from Woodstock . . . Purple Haze by Jimi Hendrix.
Well, I hope you have enjoyed this voyage . . . I sure did. Hope it was worth the wait.
Here we are, home again . . . someone has the kettle on and there are treats ready for our tea . . . too busy now? Come by another time; the door is always on the latch . . .
BTW, the Happy Hibiscus says 'hello' to all of you; this is the most recent of an amazing summer of flowering. I think it's thirteen or fourteen so far and there are another two or three buds coming along. The most I ever had in one year, ever, was three and that was once. Most years there has only been one and occasionally there were none.